Welcome
I keep the past tidbits and such in order according to date. Beware some information is expired, as far as the circuit goes, but also be rest assured that each and every item listed here is worth reading, if even one more time...

Well another Oscars night,(1998) and I applaud the winners, say "maybe next year" to the losers, and hope that Joan Rivers doesn't get the chance next year to host the pre-show. Egads, isn't there anyone else that can do this?
Hats off to Helen Hunt, for winning, and also for her career!
I personally wanted Dustin Hoffman to win, but alas "Jack" sprat ate the little gold man before our very eyes. Congrats to him.
Applause to Kim Bassinger, for her oscar, she deserved it, and it was a real treat to watch her accept.
A congratulations to Joan Cusack, who was "REAL", throughout the entire thing, making us believe that there is sincerity in Hollywood after all :)
And of course to Robin Williams w/ all his talent, he gave a good acceptance speech and didn't go wild! Wow!
And lastly I would like to say congrats to Titanic...the beat the critics, broke the records, and sunk the ship!
I was pulling for L.A. Confidential, but titanic won, and so it goes, until next year!!


Good-bye to Roy!
On a sad note, we say good-bye to Roy Rogers.
---
The on going topic here at Foxy's:

Phil Hartman, the story!
---
In a very sad note: Linda McCartney has passed away.
I have created a small tribute to Linda if you would like to view it Here


In a sad note, we say "Aloha" to Jack Lord,
of Hawaii Five O.

I have created a memorial site to Jack Lord if you would care to visit it. He will be missed by many!
Here at Foxy's Lounge we sadly say good-bye to Sonny Bono.Born February 16, 1935, he passed away Jan 5th, 1998 in a skiing accident.

He will be remembered by many people for many different reasons. He brought smiles and laughter to millions of fans on the Sonny and Cher show. And he will be remembered for his political actions which made things better in Palm Springs, Ca. He will be missed. As Sonny would say "The beat goes on"
For more information about Sonny Bono please click on his Biography

---
A huge Congratulations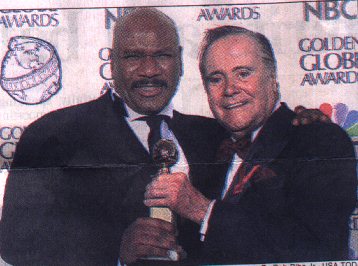 to Mr. Nice Guy! Ving Rhames won a Golden Globe on Jan. 18, 1998 for the movie Don King.
Born in 1961,in New York, New York.. Irving Rhames looks like a tough guy! But this emotional, all heart actor..has shown a kindness not often seen in Hollywood, or anywhere else. In accepting his golden globe, he was overcome with emotion, and wept aloud. He then called fellow actor Jack Lemmon up to the stage, and gave the award to him. A wonderful act of kindness, and proving it is better to give than to recieve. My hat is off to you Mr. Rhames, you are truly a wonderful guy! For more information about Ving Rhames please follow these links.


Ving Rhames Bio
Mr. Showbiz features Ving Rhames
Ving Rhames Movies
Ving Rhames Profile
Ving Rhames Fan Club
RHAMES, VING
Filmography for Ving Rhames
---
Hot topic: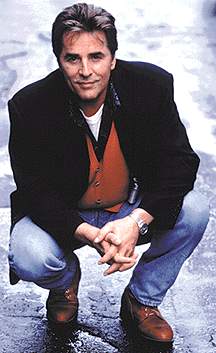 The hottest topic in the lounge is none other than: Don Johnson, star of Nash Bridges is dating a woman over 60 years old! Well Don, personally I just hope you are happy! In an interview Don had a lot to say.

And for Don's ex-wife Melanie Griffith she's planning on starring in a new sitcom this fall, Me and George, so that she can stay close to home to be with her 16 month old daughter, by Antonio Banderas.

The latest news here at Foxy's is that Seinfeld is in it's last season. As a Seinfeld fan, I have enjoyed the The Jerry Seinfeld Show, and will miss it. Of course each character; Jerry, Elaine, Kramer ,and George are the show itself. There is great speculation about the final episode. All along the show has claimed to be about nothing. The real "Fab Four" seem to have done very well doing nothing. My personal ending is: Jerry Seinfeld was a stand up comedian, who got a show (in real life), but on the show he played a stand-up comedian trying to get a show. Why not have Jerry finally get a show (on the show), and become a stand-up comedian again (in real life) BIZARRO! Indeed!. Well, the show will live on syndication forever, I am quite sure...

Background Provided by:
Rosie's Backgrounds

Back to Foxy's Lounge