Presenting:

Armistead Maupin's
More Tales of the City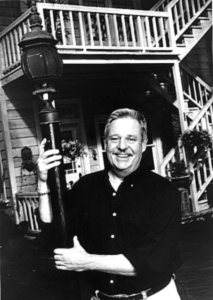 If you haven't seen it, rent it, borrow it, buy it, well don't steal it, but by all means SEE IT!!! In a word?
FANTABULOUS!!
Apparently when PBS aired the original "Tales of the City'' by Armistead Maupin, it caused an uproar in the south, especially along the "Bible Belt", and with anyone from the extreme right. However most of the rest of the world, saw this series as a fresh approach, in human relationships as depicted on TV. PBS, later backed out of the sequel "More Tales of the City", bowing to the pressure of the Far Right. But Armistead Maupin's "Tales of the City'' sequel, "More Tales of the city" which aired on Showtime on June 7-8, 1998, is a long awaited, entertaining special event that is rarely matched! More tales picks up 6 weeks later, with this original cast:


Olympia Dukakis, Laura Linney, William Campbell, Barbara Garrick

and Thomas Gibson who return in their repsective roles. "More Tales'' has the same wonderfully imaginative creation of the first miniseries.
The word "more'' does mean MORE! "More Tales of the city" has a TVMA (mature audiences) rating.
"More Tales'' bares it all, mostly of the male species, but it even has a sprinkle female visuals. The language is stronger than in the original "Tales,'' and the characters take a toke of Mrs. Madrigal's wares, frequently. After all, this is the 70's, ALA San Francisco Style! Things happen with a certain flair, at 28 Barbary Lane, Anna Madrigal (Olympia Dukakis), is a parent. Meanwhile, Mary Ann Singleton (Laura Linney) and Michael Tolliver (origianally played by Marcus D'Amico, now played by Paul Hopkins) are mascarading as husband and wife on a cruise, while each is in search of a lover. Mona Ramsey (Originally played by Chole Webb, now by Nina Siemaszko) heads for Nevada in a drugged induced fog, and soon finds herself answering phones in a Winnemucca bordello. The venemous Beauchamp Day (Thomas Gibson, who's now the co-star of ``Dharma & Greg'') is back, plotting to end the pregnancy of his wife DeDe (Barbara Garrick). Diana Leblanc) is courted by a matrons' club that promises to reward her with a piece
of the pleasure pie. After all, she is over 60! One of the main story lines involves Mary Ann's
shipboard lover, Burke Andrew (Colin Ferguson), who becomes an amnesiac while investigating a bizarre mystery that leads eventually
to Grace Cathedral on Nob Hill.

Swoozie Kurtz is cast in the sequel as Mona's neurotic mother, Whip Hubley plays the role of Brian Hawkins, (originally played by Paul Gross)and there are cameo performances by Ed Asner, Paul Bartel and, from "Frasier,'' Dan Butler. Maupin himself puts in an appearance in the
final hour, as an Episcopal priest.

But the highlight, without question, is Mother Mucca!(played by: Jackie Burroughs) who plays Mona's Grandmother.A very colorful character, who spouts obsenities, without blinking an eye.She is a tiny woman, with sassy talk, and even sassier ways, she keeps the scenes going and you end up finding yourself, wanting to see more of her! She is a real treat!

Armistead Maupin, who says he was just learning character development and storytelling when he serialized "More Tales'' in the newspaper, drops the fanciful tone a few times to speak, through his characters, from the heart.

Above all, that's the case when the lovable Michael Tolliver, who is hospitalized with the paralytic Guillain-Barre syndrome,
dictates a letter,through Mona, to his homophobic parents in Florida, telling them he's gay and proud of it. (In yahoo chat, June 9th, 1998, Armistead Maupin said he wrote that letter, as his own coming out!)

Some of the film was shot in Quebec, mostly that of Mother Mucca's Blue Moon Lodge. The original set was stored in Montreal, and used again in "More Tales". While chatting with Mr. Maupin, who by the way is very friendly, and down to earth, he revealed that he was raised in Raleigh, NC, and worked briefly for Jesse Helms. Can you imagine what an uncomfortable situation that must have been? Mr Maupin also revealed that the character of Mrs. Madrigal, was patterned after his own Grandmother. He said that he just went with the flow of the characters, who took on personalities of their own. He enjoyed the chat, and vowed to be better at answering his fan mail. Read his Interview

Just for AM, ----->Here!

Opinion:
Armistead Maupin has re-defined the word family. It isn't a structure, it is love. He has brought laughter, tears, and overwhelming quality entertainment to us, through his books, and films. He is a wonderful human being, and honesty is his best quality. I admire his work, and I feel fortunate in having chatted with him. All the best to him, and his partner Terry Anderson.

Did you know?
Armistead Maupin is working on a new adventure, about DeDe's daughter Anna, and D'oretha. I can't wait!

Links

Buy the books @ Amazon.Com


Showtime Spotlight, More tales of the city

Visit the official website here!

This site dedicated:
In Memory of Phil Hartman

Graphics by:
MOYRA's WEB JEWELS