Welcome to Irish Fun Links!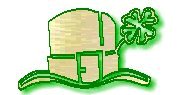 This is the section of my Irish pages, that is just for fun!
After all Irish celebrations were meant to be a good time for all!



St. Patrick's Day Screen
Saver
- Start your celebration off right with your very own St. Patrick's Day screen saver which you can download directly from this site.
Heather's Happy St. Patricks Day Page - For Kids Only!!
- St. Patty needs your help!
Play the interactive game and find his pot of gold.
St. Patrick's Pot O Gold Game
- Click on a Pot of Gold and answer the math question about American money that will come up on the screen. Be sure to keep a pencil and piece of paper handy to keep track of your score. Good Luck...and have fun!
About St. Patrick's Day
- Enjoy the word search puzzle, limericks, songs, traditions, and a bit of Irish history.
The Island - St. Patrick - Three Myths
- Read more about the most popular Saint Patrick's Day Myths.
Simply Saint Patrick's 1996
- Take a virtual trip to Ireland to learn more about Irish history and famous Irish people.
Fun Stuff
- Enjoy educational games as well as links to other Internet sites that are designed especially for kids.
Saint Patrick
- Read the story of Saint Patrick online.
Saint Patrick's Day
- Follow this link to more St. Paddy's Day Internet fun.
Some Irish Ballads
- These are Irish folk songs for Saint Patrick's Day.
Irish Songs
- Lyrics to Irish folks songs and ballads.
Facts Page on St. Patrick
- Get the words to many of your favorite Irish songs at this site.
Saint Patrick
- Visit here for color pictures of Saint Patrick and St. Patrick's Day cards.
NJWeb St. Patrick's Day
- Learn more about Saint Patrick and Irish songs.
St. Paddy's Day Puzzle
- A tricky Irish word puzzle.
Blarney Woollen Mills - The Story of St. Patrick
- This story about Saint Patrick is for younger readers.
Catholic Online Saint Patrick Page
- Learn about the shamrock and its importance to Saint Patrick's Day.
Carlos' Coloring Book
- Color the Leprechaun online.
The Rainy Day Resource Page
- Enjoy children's literature, Carlos' Web Coloring< Book, Berit's Best Sites for Children,
Arts & Crafts for kids, easy recipes and more.
Irish Sayings and ProverbsB - From Virtual Retail direct from Ireland.