Women of the Night, 1992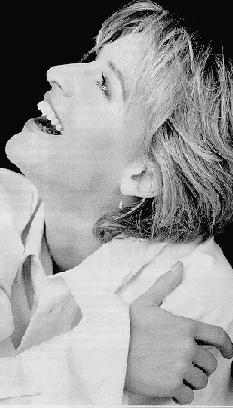 A little about Ellen herself:
In a recent interview Ellen spoke with Diane Sawyer, who unfortunately works for ABC, and conducted this Interview
Ellen DeGeneres is an openly gay activist, with her lover Anne Heche . She decided to tell the world on April 30, 1997, on her show, that she is a lesbian. Most of her fans applauded the honesty, and had awaited the moment, with anticipation. The show was deemed controversial, but still a success. Praised by critics for its artful balance of sensitivity and humor, "The Puppy Episode" was watched by more than 42 million Americans, earning the highest ratings for any ABC program last season and landing DeGeneres on the cover of Time magazine. Also last season, in addition to releasing her first comedy CD, "Taste This," DeGeneres earned two Emmy Award nominations for performing on "Ellen" and hosting the 38th Annual Grammy Awards telecast; reprised her duties as host of the 39th Annual Grammys live from Madison Square Garden; garnered her second Screen Actors Guild Award nomination for her work on "Ellen"; and completed production on director Roland Joffe's feature film thriller, "Goodbye Lover," co-starring opposite Patricia Arquette and Dermot Mulroney.


During 1995-96, DeGeneres broke into the literary field with the publication of her first book, "My Point . . . And I Do Have One," which skyrocketed to #1 on The New York Times Bestseller List; starred in her first feature film, "Mr. Wrong"; and earned Emmy and Golden Globe Award nominations for her performance on "Ellen."


1994-95 was also a banner season for DeGeneres. She won the People's Choice Award for Favorite Female in a New Television Series (with her hit show tying for Favorite New Television Comedy Series); received rave reviews and an American Comedy Award for co-hosting "The 46th Annual Primetime Emmy Awards"; was honored with a CableACE Award for hosting the music awards program, "VH1 Honors"; earned a Golden Apple Award as Female Discovery of the Year from the Hollywood Women's Press Club; and won Golden Globe and SAG Award nominations for her role on "Ellen."


DeGeneres made her first splash in television series comedy as office oddball Margo Van Meter on "Open House," and portrayed nurse Nancy McIntire in the critically acclaimed ABC series, "Laurie Hill." In state-of-the-art audio-animatronic form, she does battle with a dinosaur in "Ellen's Energy Crisis," an exciting attraction that opened in the autumn of 1996 at Epcot's Universe of Energy Pavilion at Walt Disney World.


In the stand-up arena, DeGeneres received a Cable ACE Award nomination for "One Night Stand -- Command Performance," and appeared in the comedy specials, "Women of the Night," "One Night Stand" and "The Young Comedian's Reunion." Highly respected by her peers, she was named Best Female Comedy Club Stand-up at the 1991 American Comedy Awards.


A favorite guest on television's top late-night programs, DeGeneres got her big break in 1982 when her videotaped club performances won a nationwide competition, earning her the title of Funniest Person in America.

Earlier this year,

decided that the show needed a Parental Advisory slapped on it, without informing Ellen herself.
When Ellen showed concern over this, the network, did not reply right away. The tensions mounted, and Ellen was cancelled in late April, for "Lack of ratings"!
Ellen, as well as many of her fans, feel she was fired due to the fact that she is openly gay!
This may not be illegal, in itself. However, what possible difference could someone's sexual orientation, have to do with anyone, and why should it cause the cancellation of a television show?
Over the past few weeks, Ellen's situation has gotten much attention from the gay community, and is a growing concern for all Americans, who believe in freedom of choice!
I watched the final episode, called a "Mockumentary" and found some very key issues being discussed. The show did not reflect the comedian we have come to know and love, but reflected the mood of a show being cancelled. But more interestingly it depicted several scenes that are on other television shows, mostly on ABC, which have stronger content sexually than Ellen ever did. These shows do not have a "Parental Advisory" attached to them. Further, the final episode, also showed that our society has grown in it's tolerance of what is accepted and what is not. As Ellen, herself, put it: 20 years from now, the whole thing will be "One big so what!". Which brings us to the point, why then has Ellen had the parental advisory slapped on her show in the first place? This coupled with the fact that ABC did not properly promote the show, added to the drop in ratings, therefore giving ABC the "Excuse" of cancellation. ABC...could that stand for:
All Biased Company??
Fan Club Information:

Contact:

National Association of Fan Clubs

P.O. Box 7487

Burbank, CA 91510-7487

email: LKNAFC@aol.com


Ellen Sites!



The Completely Un-Official Ellen DeGeneres Home Page


The Australian Ellen DeGeneres Home Page


The Ellen DeGeneres Internet Fan Club


Official Ellen--the Show, Website.


Yahoo! Full Coverage - Ellen Degeneres


Ellen DeGeneres & Anne Heche Homepage


The Ellen Episode Guide


EvErYtHiNg ELLeNThis is a MUST SEE!!


GLAAD Online A must see!!


The Sacred Rainbow



Other interesting links:






Credits:
Graphics provided by:
Gillyboo's Gay Graphics
Gay Graphics
"PRIDE PALS"
Midi provided by:
AOL