Dean Martin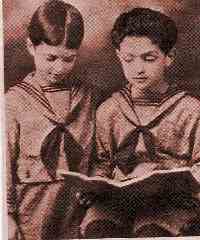 Dean Martin1>
Dino Paul Crocetti,was born on June 7, 1917 in Steubenville, Ohio. His parents were Angelina and Guy Crocetti, both Italian immigrants. Until the age of 5 years, Dean only spoke his native Italian language. Dean also had an older brother, Guglielmo(William)born in 1916, he died in 1968. Growing up in the midst of the Great Depression, Dino quit school in the tenth grade and took a varied sort of jobs. To include; gas station attendant, blackjack croupier, steel mill worker, whiskey salesman and even made some money at welterweight boxing under the name 'Kid Crochet'.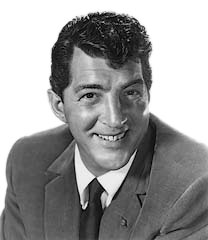 Dino married his first wife, Elizabeth(Betty) Mcdonald in the early 1940's. His children were Stephen, born June 29, 1942; Claudia , born March 16, 1944; Gail, born April 11, 1945 and Dina, born August 19, 1948.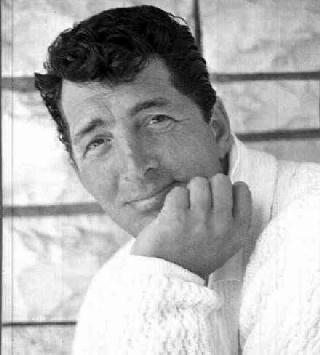 Singing seemed to be Deans main ambition. He was a natural at it and he knew it. Growing up, Deans vocal idol was Bing Crosby. Lucky for us, someone discovered Dinos melodic baritone voice. He began singing under the name, Dino Martini, then later changed it to Dean Martin. At the age of 28, in 1945, he signed a contract with MCA to sing at hot night clubs around the Midwest. And sing he did. His first recording was made with Diamond Records in July 1946, with the song, 'All of Me'. And in 1948, he finally signed with Capitol Records and his voice became known to many.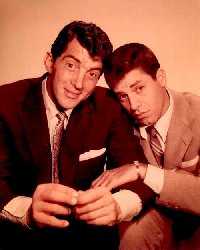 In 1945, Dean met up with the comical Jerry Lewis.They wouldnt work together until 1946. But when paired together at night clubs, they became a hit. Dean singing, Jerry interrupting Dean with his hilarious stints. The audience loved them and soon, were requested to perform together often. In 1949, they had their own radio show. In their 10 years together, they also made 16 films. Deans first film was, 'My Friend Irma'. Sadly they went their own ways in 1956. Sad for us, but not for them. They continued their famous careers, even though seperate, successfully.
Dean divorced and later married Jeanne Biegger, the former Orange Bowl Beauty Queen. Together they had three children. Dean Paul, Jr., born November 17, 1951; Ricci James, born September 20, 1953 and Gina Carolyn, born December 20, 1956. Tragically, Dean Paul Jr. was killed in a plane crash March 27, 1987.
By the 1950's, his voice was in full recording swing with Capitol Records. Dean was a hit. Putting out such titles as; Thats Amore, On an evening in Roma, Volare, Sway, Houston, Memories are Made of This, and the list doesnt stop there. Deans first million $ selling record was, 'Thats Amore', recorded at Capitol in 1953. Dean began mixing singing with acting, with touring and with more singing. He was doing it all. It was in the 50's and 60's, that Dean made being 'hip', noticable. And was later deemed the King of Cool. A title, Dean held quite well. In 1958, his acting career took off with the film,'The Young Lions', also starring, Marlon Brando and Montgomery Clift. It was a hit at the box office. Other dramatic film roles included, 'Rio Bravo' and 'Some came Running'. These are just a few of the motion pictures that gave Dean an edge in the acting business.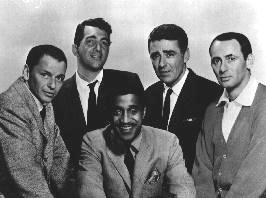 The ever famous 'Rat Pack' days, began for Dean, in the late 1950's. Teaming up with greats like Frank Sinatra, Sammy Davis Jr., Peter Lawford and Joey Bishop in Las Vegas. Dean was a smash on the strip in Vegas. Whether Dean performed with his fellow friends or solo, his debonair style and funloving demeanor was in high demand on the strip. Vegas hotel performances included The Sands Hotel, The Riviera, MGM Grand and Balleys. In addition, Dean opened his own night club, called 'Dino's Lodge'. In 1976, it was Frank Sinatra himself, who brought about the memorable reunion of the 'crooner' and the 'comic', after a 20 year seperation, on the Jerry Lewis Telethon; televised annually to raise money for muscular dystrophy every Labor Day weekend.


Not only did Dean grace the radio airwaves, the night clubs, the big screen, but he was also brought into our living rooms. Voted #1 on television at one time, 'The Dean Martin Variety Show', ran for 9 consecutive and very successful seasons via the NBC television network. It was there, that he started each show with his now famous trademark song, 'Everybody Loves Somebody', which was recorded on the Reprise Record label in 1964. Dean also played Matt Helm, an americanized 'James Bond', in 'The Silencers'.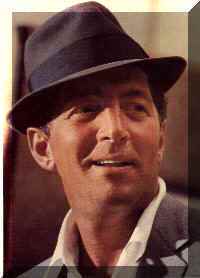 Dean divorced and married for the third time, Catherine Mae Hawn and also adopted a daugther, Sasha Martin. They divorced after a few years. Later, Dean and his second wife, Jeanne, developed a quiet friendship. After all, they had spent 23 years of their life together. She lived just down the street from Deans home in Beverly Hills, California.





In the late 1970's, Dean retired. Enjoying his later years, spending time with his family and friends, savoring Italian dishes in his favorite restaurants and playing golf. However, Dean did manage to make occasional public appearances now and again. Dean always seemed to be astounded that he had so many fans. And he never minded signing autographs. He recorded a few tunes as well. His final recording album was in July of 1985 entitled,'LA is My Home'.
On Christmas Day 1995, in his Beverly Hills home, Dino Paul Crocetti passed away. He suffered from acute respiratory failure. And was accompanied by his second wife, Jeanne Biegger, who held his hand in his last moments. In his 78 years, Dean Martin had accomplished alot.
Many people can only dream of doing all the things that Dean got to do. But Dean did them with hard work, and an uncompromising determination. His charm, his looks, his suave demeanor and most of all, his vocal and acting abilities took him places. Through books, television, videos, music and fan clubs, Dean Martin remains alive. Endeared in our memories and in our hearts. He continues to bring forth smiles. Dino will never be forgotten and will always be sadly missed.



---


Dino Links!
---



Dean Martin Fan Center The official Page!


Dean Martin Festival


Special Collections, Dean Martin


Dean Martin Deluxe!


Dean Martin T.V. Schedule


Dean Martin and the Gold diggers

Bibliography: Dino by: Nick Tosches