Good-bye to the Velvet Fog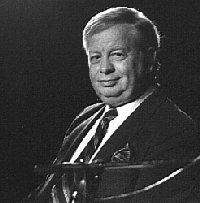 b. 13 September 1925, Chicago, Illinois, USA. A child prodigy, Tormé first sang on radio as a toddler and while still in his teens was performing as singer, pianist, drummer and dancer. He was also composing songs and wrote arrangements for the band led by Chico Marx. He acted on radio and in films and in addition to singing solo led his own vocal group, the Mel-Tones. In this last capacity he recorded with Artie Shaw, enjoying a hit with 'Sunny Side Of The Street.'
By the '50s he was established as one of the leading song stylists, performing the great standards and often working with a jazz backing, notably with the Marty Paich Dek-tette on albums such as "Lulu's Back In Town." He headlined concert packages across the USA and in Europe, appeared on television, often producing his own shows, and always delivering performances of impeccable professionalism.
He continued in such vein throughout the '60s and '70s, making many fine albums of superior popular music, several on which he was accompanied by jazzmen. Amongst these were Shorty Rogers, ( "'Round Midnight"), Al Porcino, ( "Live At The Maisonette"), Buddy Rich, ("Together Again—For The First Time), Gerry Mulligan, ( "Mel Torme And Friends") and Rob McConnell ( "Mel Torme With Rob McConnell And The Boss Brass").
Of all his musical collaborations, however, the best and most satisfying has been a long series of concerts and radio and television shows, many of which were issued on record, with George Shearing. Amongst these albums are "An Evening At Charlie's," "An Elegant Evening," "A Vintage Year" and "Mel And George 'Do' World War II." In the early '90s Tormé was still drawing rave reviews for record albums and personal appearances, with Shearing, at festivals in California and the Channel Islands, and with Bill Berry's big band at the Hollywood Bowl.
As a songwriter Tormé has several hundred compositions to his credit, of which the best known by far is 'A Christmas Song,' first recorded by Nat King Cole. As a performer Tormé often features himself on drums—for many years he used a drum kit formerly the property of Gene Krupa—and he plays with unforced swing.
As a singer, Tormé's work is touched with elegant charm. His voice, with the characteristic huskiness which earned him the sobriquet The Velvet Fog, has deepened over the years and by the early '90s still retained all the qualities of his youth, not least the remarkable pitch and vocal control.
In his choice of material he has never shown anything other than perfect taste and his repertoire is an object lesson in musical quality. The fact that he also writes almost all the arrangements of the songs he sings adds to his status as a major figure in the story of American popular song.
---
This is the obiturary as it came across the AP wire.

Mh2>Mel Torme passes away,
June 5th, 1999

LOS ANGELES (AP) -- Mel Torme, whose warm, smooth vocal delivery made him a hero to fellow jazz and pop singers and earned him the nickname "The Velvet Fog," died today. He was 73.

Torme, who had suffered a stroke in August 1996, was rushed from his home in Beverly Hills to University of California, Los Angeles at 1 a.m. He died of complications from that stroke at 1:45 a.m., said Rob Wilcox, Torme's publicist.

His wife Ali and five children were at his side when he died, Wilcox said.

His other claim to musical immortality: He was co-author of the holiday pop classic "The Christmas Song," which began "Chestnuts roasting on an open fire ..."

The song was a huge hit for Nat "King" Cole in 1946 and has been recorded by countless other singers, including Torme himself.

The man who began his performing career at age 4 didn't much like his nickname, saying he preferred jazz singing to velvet-fog crooning.

"It really wasn't until the end of my high school days, in 1943, that I determined to be a jazz singer," he says. "Then I got sidetracked. (His manager) felt the way to the gold was for me to become a crooner.

"For a long period I was singing mushy, sentimental songs. I began to be called the Velvet Fog. I never liked it."

He said he was rescued by a recording executive who heard a bit of jazz in his style and urged him in that direction.

He saw his vocal career as a work in progress, "a long learning curve."

Listening to recordings in a boxed CD set on his career, he said, "The early songs are kind of callow. I cringe a little bit at them. They were part of the process, part of evolving."