Ted F'in Nugent
---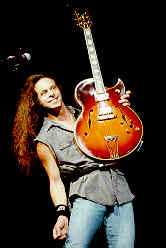 Born in Michigan on December 13,1948...Ted Nugent is the greatest guitarists of all time, with the greatest attitude of all time.He started playing guitar pretty much full time when he was 10 years old. He was in a couple of different bands as a teen,but things REALLY started going his way when he hooked up with the Amboy Dukes. In fact,the Motor City Madman became such a draw because of his antics on stage and great guitar skills....the band soon became known as Ted Nugents Amboy Dukes.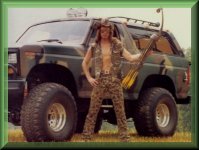 They had a couple of big hits along the way. Mainly, "JOURNEY TO THE CENTER OF YOUR MIND" and (that great epic) "BABY PLEASE DONT GO". But then Ted decided to break out on his own and released his first solo album (commonly known as STRANGLEHOLD) in 1975. His band consisted of Derek St.Holmes-rhythm guitar and vocals,Rob Grange-bass,and Cliff Davies-drums,vibes,and vocals.(And the Madman himself on lead guitar and vocals, of course.)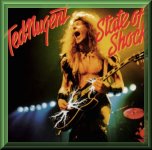 At a Festival in Beloit, Chicago--Ted Nugent left his guitar on stage, rippling with intense feedback, only to emerge about five minutes later donning a massive traditional Indian headdress. The song many waited for was next -- "The Great White Buffalo" Though he wrote it years ago, the song has become a tribute to Miracle, the white buffalo born on the Heider farm in Janesville.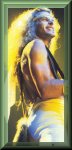 Ted Nugent is an avid Sportsman and President and Founder, Ted Nugent's United Sportsmen of America (Jackson, MI).