Appetizers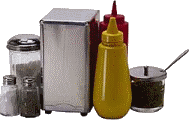 Fried Mozzarella Sticks
1 1/2 lbs. unsliced mozzarella cheese

1 cup flour

2 eggs

2 Tab. water

2 cups dry bread crumbs

1 1/2 quarts vegetable oil for frying


Cut cheese into 3"x 1/2" sticks. Spread flour on plate or sheet of wax paper. In a wide
shallow bowl, beat eggs and water until well blended. Dredge cheese in flour, dip in egg,
and roll lightly in bread crumbs, making sure it is completely coated. Place breaded
cheese sticks in a single layer on plate and freeze for 15 minutes, do not freeze longer!


In large saucepan or deep fryer, heat vegetable oil to 350 degrees. Add cheese in batches,
without crowding and cook, turning, until evenly browned, 2-3 minutes. Serve
immediately with warm Marinara sauce.

Potato Skins


Bake potatos, scoop out insides, then brush the insides with butter or margarine. Broil the
skins until browned, and fill with bacon, cheese. Broil again until cheese is melted, then
top with sour cream, chives, or scallions.

Jalapeno Poppers

50 lg Whole jalapeno peppers

1/2 c Green onion; chopped

1 c Crisp fried bacon

4 tb Lemon juice

2 tb Worcestershire

1 pk Cream cheese (8 oz)

1 Stick butter; softened


Wearing rubber gloves, split peppers in half and
remove seeds.
h well. Soak in ice cold water for 1
hour drain. Combine remaining ingredients and stuff.

Bloomin Onion

1 lrg. Texas or Vidalia Sweet Onion

Boiling water and ice water

1 egg, beaten

2 T. flour

1 cup cracker crumbs or coating mix

Oil for deep frying


Select a well rounded onion. Peel outer skin off. Leave root intact, cut off any hanging
roots. Using small, sharp knife, divide onion into flour sections by making 2 cuts
crosswise, beginning at the top and cutting toward the root, stopping about 1/2-inch away.
Cut each section twice.
Place onion in bowl of enough boiling hot water to cover it and leave for 5 min. The
sections, or "petals", will begin to open. Remove onion from hot water and immerse into
ice water, which will further the opening.
Drain well by turning upside down on paper towel. Put flour into paper bag, add onion
and shake gently to coat with flour. Roll floured onion in beaten egg to cover. Pu
cracker crumbs or coating mix in paper bag, add onion, and shake gently to coat.
Refrigerate 1 hour before deep frying in oil to golden brown, 3 to 5 min. Cooked onion
can be kept for a time in a warm oven.

Onion Flower Dip

1/2 cup mayonnaise

1/2 cup sour cream

1 T. chili powder

1 1/2 tsp. Cajun seasoning


Mix all ingredients and blend well.

Hot Wings

1/2 pound chicken wings

1/2 pound butter

1 tbs. lemon juice

1 tbs. basil

12 oz. jar Trappens Red Devil hot sauce
Deep fry until cooked.
. Mix all ingredience above and place 1 tbs. on each wing. Put in broiler for approx. 5
minutes or until browned.

Hot Crab Dip


1 6oz can crabmeat

1/2 c mayonnaise

1/4 c chopped onion

1 Tbs lemon juice

Old Bay (to season)

Tabasco to taste

Black Pepper to taste.

Cream chees with electric mixer, then add remaining ingredients. Mix well.
Bake in small ovenproof bowl about 30 min at 350 degrees.
Serve with crackers, or bread sticks

Deviled Eggs

6 eggs - hard cooked

2 Tbl mayonaisse or salad dressing

1 tsp grated onion

1 tsp mustard

1/2 tsp worcestshire sauce

1 can deviled ham (2 1/2 oz)


Salt and pepper to taste

Cut hard cooked eggs in half - removing yolks to bowl - mix
remaining ingredients with yolks and pile lightly into
reserved halves. Dust lightly with paprika before serving.

Spicy Meatballs

1 lb. hamburg

1 egg

l/2 cup milk

1/2 cup Italian style bread crumbs

1/4 cup Garlic and Herb style bread crumbs

1/4 cup Parmesian style bread crumbs

l sm. onion chopped very small

black pepper

Mix in a
large bowl mix ingredients well. Place the meatballs in a 9x9 glass baking dish..and
butter the bottom.Bake at 350 for 35 min. Place in sauce(sauce, can made from ragu
spicy spaghetti sauce, or making you own, can be tomato sauce and herbs, (oregano,
basil, bay leaves, black pepper, salt, and garlic to taste) Depending on the time you want
to spend on it. Place meatballs in sauce and let simmer for 5 minutes.
~~~~~~~~~~~~~~~~~~~~~~~~~~~~~~~~~
Back to the Pub?